Traditional Bulgarian Dishes have shared some characteristics with other Balkans cuisines, and it is influenced by the excellent growth conditions for a variety of herbs, vegetables, and fruits. Bulgarian cuisine is diverse, with every meal required rich salads.
A variety of hot and cold soups are also featured in Bulgarian cuisine, an example of a cold soup being tarator. There are many different Bulgarian pastries as well such as banitsa.
Bulgarian Food
Bulgarian cuisine is representative of the Mediterranean cuisine of Southeast Europe. It shares characteristics with other Balkan cuisines. Bulgarian cooking traditions are diverse because of geographical factors such as climatic conditions suitable for a variety of vegetables, herbs, and fruit.
Whenever I feel like working, I sit and wait for the feeling to pass.

famous bulgarian quote
The Bulgarian white brine cheese called sirene, is a very popular ingredient in Bulgarian cuisine, and the main ingredient in many salads, as well as in a variety of pastries.
Also Read: 10 Food You Must Try in Bulgaria
Top Traditional Bulgarian Dishes
Most Bulgarian dishes are steamed, oven-baked, or in the form of stew, while deep-frying is not very typical. Grilling is very popular especially during the summer with different kinds of meats.
Here are the main characteristics of Bulgarian cuisine:
Bulgarian cuisine features also a variety of hot and cold soups.
Bulgarian cuisine is rich salads required at every meal.
Bulgarian cuisine features also many different Bulgarian pastries as well such as banitsa.
Bulgarian cuisine is also noted for the diversity and quality of dairy products.
Bulgarian cuisine is also popular for its variety of Bulgarian wines and local alcoholic drinks.
There is also oriental influence in Bulgarian cuisine, which is due to a long time as a part of the Ottoman Empire and includes dishes such as gyuvetch, moussaka, and baklava which are now part of the traditional cuisine.
Banitza (Bulgarian white cheese pastry)
Banitsa (Bulgarian Feta Pie) is one of the most popular Bulgarian traditional pastry dish, prepared by layering a mixture of whisked eggs, natural yogurt and pieces of white brine cheese. This feta pie is a symbol of Bulgarian cuisine and traditions. This white brine cheese Sirene is a Bulgarian sheep or cow cheese that is tangy and absolutely delightful. Straining the yogurt creates a thicker yogurt cheese.
---
Kebapche
Kebapche is a traditional Bulgarian dish of grilled minced meat with spices, prepared as a mix of pork and beef or some recipes use only pork. Kebapche is shaped into a cylindrical form, similar to a hot dog, grilled food spiced with black pepper, salt, and cumin.
A beer is the preferred drink to go with a kebapche and a typical addition to a kebapche meal are french fries, covered with grated sirene, lyutenitsa and somethimes a salad.
---
Mekitsi (Bulgarian fried donuts)
A traditional Bulgarian dish, Mekitsi are made of kneaded dough made with milk or yogurt, baking soda, that is deep-fried. Mekitsa is popular as a breakfast dish.
Mekitsa is often served with sprinkled powdered icing sugar on top or garnished with honey, jam, sirene or with yogurt.
---
Shopska Salata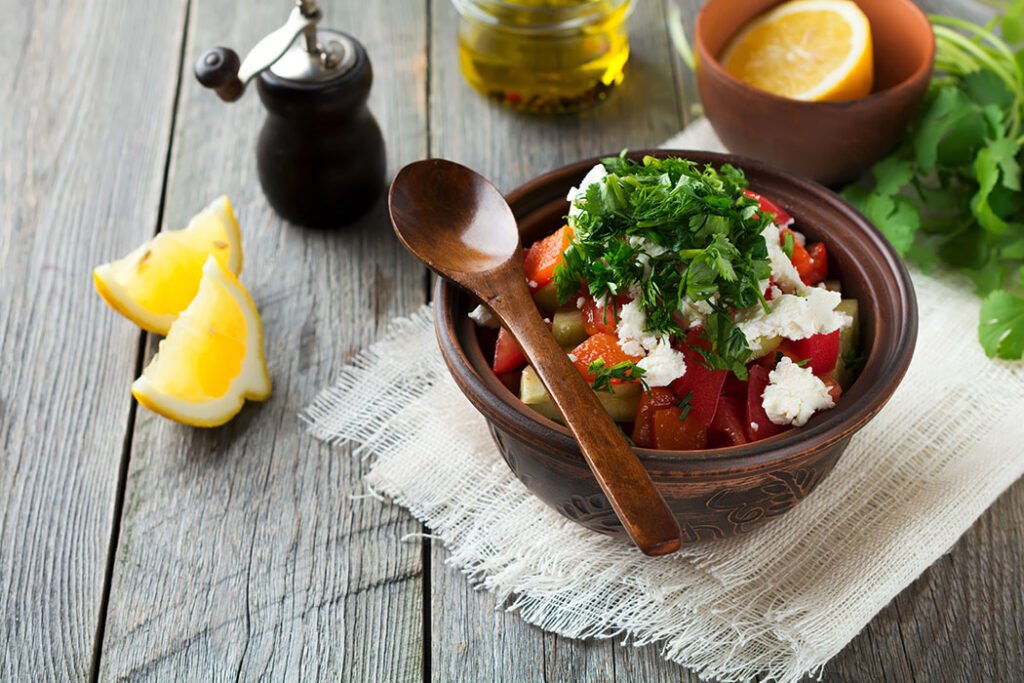 Shopska salad is a traditional Bulgarian cold salad popular throughout Bulgaria and Southeastern Europe. This is Bulgaria's national salad and most famous dish. The ingredients used for the salad resemble the three colors of the Bulgarian flag.
After the vegetables are diced and salted, a light dressing of sunflower oil and vinegar is used. The salad has become an emblem of the Bulgarian tourism and it was approved as a national culinary symbol during the 1970s.
---
Meshana Skara (Mixed grill)
Meshana skara or Bulgarian mixed grill is a traditional meal consisting of a platter full of meat such as one kebapche, one kyufte, one pork steak and one pork skewer. The platter comes along with french fries, lyutenitsa, and bean salad with onions. 
---
Gyuvech (Beef stew)
This traditional Bulgarian meal Gyuveche takes its name from the ceramic pot in which this earthenware casserole is baked and served. Gyuveche is a delicious dish from Bulgaria made with beef, tomatoes, mushrooms, carrots, celery, and cheddar cheese, but you can use chicken too, even fish.
Then the ceramic pot is topped with thin potatoes and over-easy eggs and baked in the oven to 400 F degrees.
---
Tarator (Cucumber Soup)
This authentic tarator recipe also called Bulgarian Tarator is a popular summer cold cucumber soup in Bulgaria that is flavorful and refreshing and, it can be served as an appetizer or side dish. Everyone who tried this soup will fall in love especially in the summer.
Tarator is no-cook light and completely refreshing, cucumber soup can make a great side dish for the hot summer days. It is easy to make and it can be ready in less than 15 mins. Bulgarians like to have a rakia or beer with it.
---
Shkembe chorba (Tripe soup)
Skembe čorba is made with whole beef. pork, or lamb tripe boiled for few hours, after that is chopped in small pieces, and returned to the broth. Ground red paprika is used to spice the soup with a small quantity of milk is added. Mashed garlic in vinegar and hot red pepper are traditionally served with the soup.
Tripe Soup (Shkembe Chorba) is one of the most popular soups made with a tripe, water, flour, milk, red wine vinegar, garlic, and hot chili peppers and garnish with chopped parsley. This type of soup is popular across Balkans with different names and it is made with tripe (cow stomach). It is widely considered to be a great hangover remedy.
---
Moussaka
Traditional Bulgarian Moussaka is a beloved Balkan and the Middle East dish. It's absolutely delicious and its preparation depends on the region. Traditional Bulgarian Moussaka recipe is made with potatoes, ground beef and vegetables like tomato, onion, and garlic. In Bulgaria Moussaka is based on potatoes and ground meat.
Moussaka is also available in every traditional bulgarian restaurant or you can try making this popular Bulgarian dish yourself by following this recipe.
---
Tikvenik (Bulgarian Pumpkin Pastry)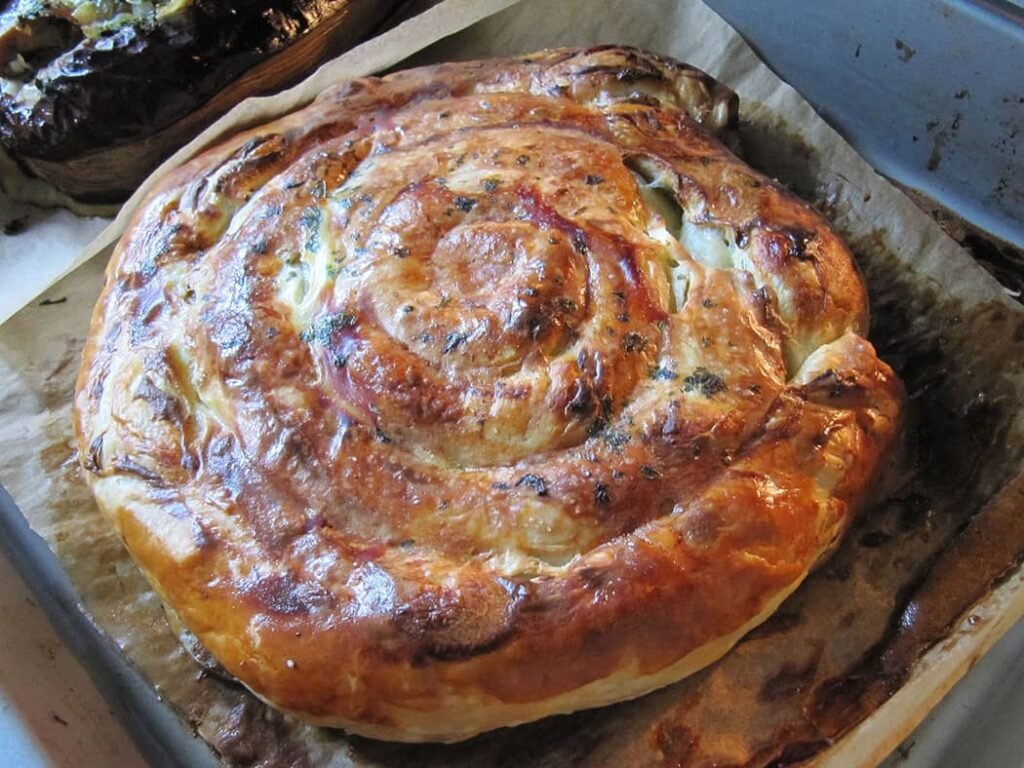 Tikvenik (Bulgarian Sweet Pumpkin Pie) is a traditional Bulgarian pastry, prepared from sheets of dough that are filled with grated cooked pumpkin, mixed with ground walnuts, sugar, and cinnamon.
This pumpkin dessert could be considered as the sweet version of banitsa and it is especially popular in the fall and winter, and served as a lean dish on Christmas Eve. The rolls are arranged in a tray, usually rolled in a circle and baked.
---
Did You Try any of These Traditional Bulgarian Dishes?
Let me know your experience if you made or have tried some of the traditional Bulgarian dishes or if you know some interesting facts we should mention. Tag @stunning_bulgaria on Instagram and hashtag it #stunning_bulgaria.
While I have you here, may I suggest a few other places you should visit on your next trip: