When visiting Bulgaria there are some unique Bulgarian food you must try in Bulgaria. As a representative of the cuisine of Southeast Europe, Bulgarian cuisine is noted for the prominence of dairy products, a wide variety of salads served as appetizers are and also rakia, wines and other alcoholic drinks.
Bulgarian cuisine features a variety of soups, that can be served hot as chicken soup or cold soup such as tarator, and pastries, such as the filo dough based banitsa, tikvenik, pita, and the various types of börek.
Food You Must Try in Bulgaria
Bulgarian cuisine had been influenced by many sources, including the cuisines of the South Slavs, of the neighboring Austro-Hungarian Empire, of Italy, from Ottoman cuisine, Middle Eastern cuisine and so on. One of the most popular ingredient used in salads and a variety of pastries is called sirene – white brine cheese.
All Balkan countries share a number of dishes including baklava, moussaka, ayran, ajvar and kyufte.
Prosperity is not a function of location, but a way of thinking.

Neli Georgieva
Bulgarian yogurt, wines, and white cheese (feta) are the products Bulgaria is known for in the world.
Also Read: Top 10 Traditional Bulgarian Dishes
Various cold cuts and other meat delicacies are popular in Bulgaria's cuisine and these delicacies are usually accompanied by Bulgarian rakia or wine since Bulgaria's unique climate and soils allows a variety of grapes thrive here.
People in rural areas grow vegetables that are exceptionally tasty, which is why salads occupy a central place in our culinary tradition. The most popular Bulgarian salad is the Shopska Salad, but there are also other salads worth trying – Shepherd's Salad, Harvest Salad, Snezhanka, Monk's Salad, Dobrudzha Salad, Roasted Peppers Salad, and many others.
Many of the dishes are prepared according to traditional recipes handed down from generation to generation over the centuries. Bulgaria has many unique regions n dishes and drinks. It is necessary to visit all of the regions where the traditional recipes are proudly maintained and culinary delights are constantly on offer, to fully know the culinary magic of the country.
Let's take a look below at some of the food you must try in Bulgaria.
Bulgarian Yogurt (Kiselo-Mlyako)
Bulgarian Yogurt or also called Kiselo mlyako is recognized as the healthiest and the best of all dairy products available to consumers.
Bulgarian yogurt is the food you must try in Bulgaria and is the most popular variety of yogurt in the world and has a long history that dates back at least 4000 years ago. Two very specific types of starter bacteria which are Lactobacillus bulgaricus and Streptococcus thermophiles, made the traditional Bulgarian Yoghurt so special.
There are many benefits of consuming Bulgarian Yoghurt such as the ability to reduce the risk of developing high blood pressure, the live bacteria Bulgarian Yoghurt helps in strengthening the immune system, it is one of the best sources of probiotics. It has a high level of calcium and this helps prevent bone-related issues.
---
Tarator (Cold Yoghurt Soup)
This authentic tarator recipe also called Bulgarian Tarator is a popular summer cold cucumber soup in Bulgaria that is flavorful and refreshing and, it can be served as an appetizer or side dish. Everyone who tried this soup will fall in love especially in the summer.
Tarator is no-cook light and completely refreshing, cucumber soup can make a great side dish for the hot summer days. It is easy to make and it can be ready in less than 15 mins. Bulgarians like to have a rakia or beer with it.
---
Shopska Salad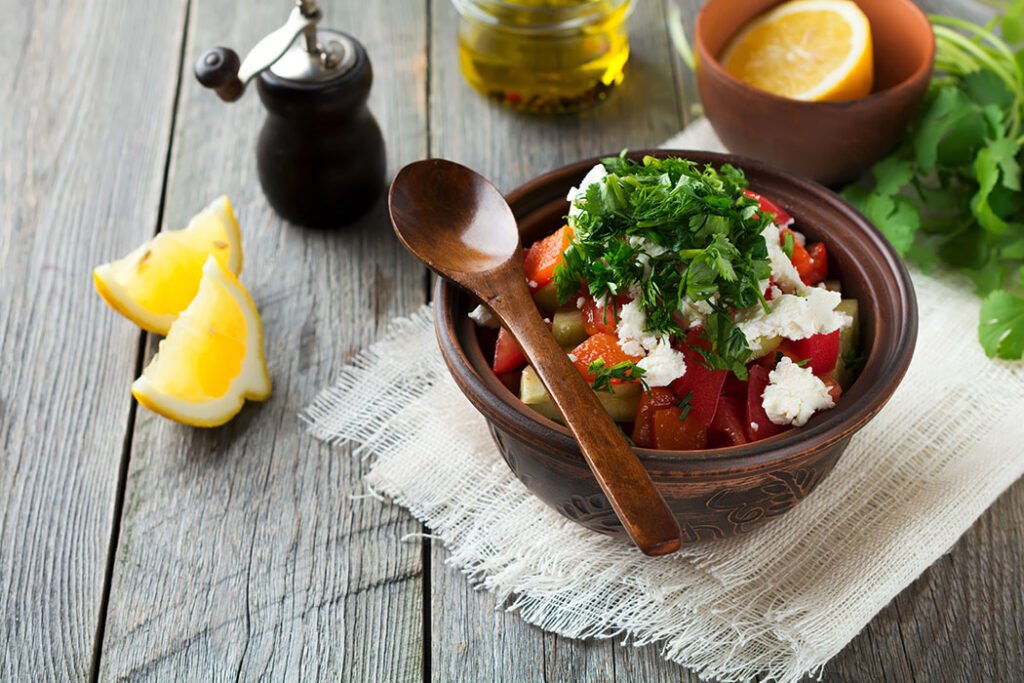 Shopska salad is a traditional Bulgarian cold salad popular throughout Bulgaria and Southeastern Europe. This is Bulgaria's national salad and most famous dish. The ingredients used for the salad resemble the three colors of the Bulgarian flag.
After the vegetables are diced and salted, a light dressing of sunflower oil and vinegar is used. The salad has become an emblem of the Bulgarian tourism and it was approved as a national culinary symbol during the 1970s.
---
Banitsa (Cheese-Filled Pastry)
Banitsa is a traditional Bulgarian cheese pie made with layering a mixture of whisked eggs, natural yogurt, and pieces of white brine cheese. This feta pie is a symbol of Bulgarian cuisine and traditions. This white brine cheese Sirene is a Bulgarian sheep or cow cheese that is tangy and absolutely delightful. Straining the yogurt creates a thicker yogurt cheese.
It's perfect for breakfast or as a snack, served with plain yogurt, ayran, or boza. and it's best enjoyed warm! There are some varieties of banitsa with spinach, banitsa with milk or pumpkin.
---
Kavarma
Bulgarian Kavarma is a slow-cooked stew from the traditional Bulgarian cuisine, typically made with vegetables and pork. Depending on the region it could be mild or spicy and slight differences in the recipe.
The marinade for this traditional Bulgarian dish can be made by combining tomato sauce, wine, paprika and black pepper.
---
Lukanka
Lukanka is a Bulgarian semi-dried salami with a flattened cylindrical shape to unique Bulgarian cuisine. It has a stronger flavor compared to sujuk, and normally is covered with a white fungus.
Traditionally, lukanka salami is made of a mix of small pieces of meat and fat from pork, veal, and spices such as black pepper, cumin, salt, minced together and stuffed.
The taste of lukanka depends on the region where is produced. Most of these regions know for its lukanka production are located in central Bulgaria at the foot of the Balkan mountain range, notably the Smyadovo, Panagyurishte, and Karlovo regions.
---
Patatnik
Patatnik or also called patetnik is a traditional Bulgarian potato dish with the origin in the Rhodope Mountains in the country's central south. Patatnik is cooked on a slow fire and is made of grated potatoes, salt, onions, and mint. There are different versions of the recipe where you can add sirene or eggs, savory and peppers.
From Bansko in Pirin through Smolyan and Zlatograd, the dish is traditional for the entire Rhodopes and the nearby regions. The name comes from a typical for the Rup dialects spoken in the Rhodopes.
---
Kebapche (Grilled Mince Meat Sticks)
Kebapche is a traditional Bulgarian dish of grilled minced meat with spices, prepared as a mix of pork and beef or some recipes use only pork. Kebapche is shaped into a cylindrical form, similar to a hot dog, grilled food spiced with black pepper, salt, and cumin.
A beer is the preferred drink to go with a kebapche and a typical addition to a kebapche meal are french fries, covered with grated sirene, lyutenitsa and somethimes a salad.
---
Lyutenitsa (Red Pepper Chutney)
Ljutenica, lyutenitsa or lutenica is popular across Balkan countries with different names in many different varieties. Lyutenitsa can also be spicy and it is a vegetable relish or chutney very popular in Bulgarian cuisines.
It comes in many varieties: smooth; chunky; with chili peppers or eggplant; and hot or mild and it is made from peppers, aubergines, carrots, garlic, vegetable oil, sugar, salt, and tomatoes.
Ljutenica is available in many regional and national variations and usually comes in a jar and is often used as a spread on bread with sirene on top or as a side dish eaten with many meats, meatballs and kebapcheta.
---
Kashkaval (Bulgarian Cheese)
The name kashkaval is believed to come from the Italian caciocavallo and is made from cow's milk and from ewe's milk. Best on the milk used there are two main types of kashkaval: vitosha – made from cow's milk, kashkaval balkan – from ewe's milk.
Kashkaval is a traditional food used in breakfast pastry, pizzas or as a part of a meze plate with meat. Kashkavalka is one of the most common dishes with kashkaval which is a little pastry containing kashkaval inside and on top. Another popular Bulgarian snack is "princess" (Bulgarian: принцеса) which is a grilled slice of bread topped with kashkaval or topped with ground pork meat and kashkaval.
There are also different varieties based on the region in Bulgaria.
---
Gyuvetch (Traditional Beef Stew)
This traditional Bulgarian meal Gyuveche takes its name from the ceramic pot in which this earthenware casserole is baked and served. Gyuveche is a delicious dish from Bulgaria made with beef, tomatoes, mushrooms, carrots, celery, and cheddar cheese, but you can use chicken too, even fish.
Then the ceramic pot is topped with thin potatoes and over-easy eggs and baked in the oven to 400 F degrees.
---
Sirene (Bulgarian White Cheese)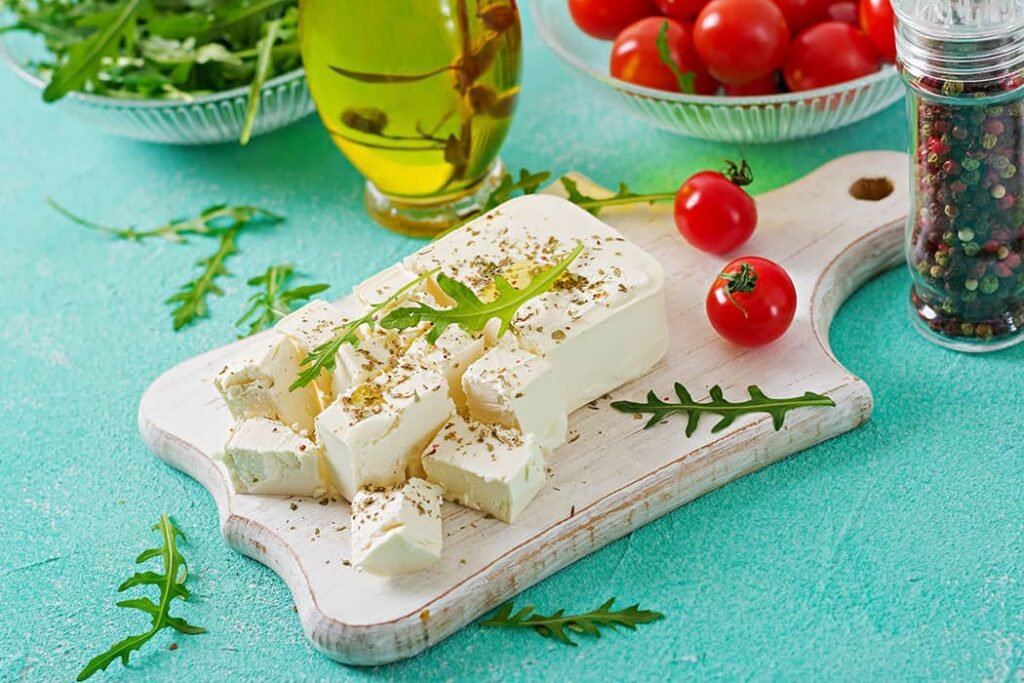 Bulgarian Sirene is known as white brine sirene and is a type of brined cheese made in the Balkans and similar to feta. It is made of the milk of cows, goats, sheep, or a mixture of these. It has a slightly grainy texture, with at least 44–48% containing fat, and is popularly used as a table cheese, in salads, and in baking.
Sirene is incorporated in many ways in the Bulgarian recipes. The traditional banitsa and other kinds of pastry are also made with sirene. Another popular way is boiled eggs over mashed sirene with a sauce of yogurt, garlic, parsley and walnuts called eggs à la Panagyurishte. 
---
Which of These Food You Must Try in Bulgaria Have You Tried?
Let me know if you have tried any of this food in Bulgaria or if you know some other interesting facts about Bulgarian cuisine. Tag @stunning_bulgaria on Instagram and hashtag it #stunning_bulgaria.
While I have you here, may I suggest a few other places you should visit on your next trip: