These are just 7 of the many Authentic Bulgarian Crafting Places you must visit on your next trip to Bulgaria.
Ethnographic complexes in Bulgaria represent the lifestyle and culture from the 18th and 19th centuries, together with the most common traditional crafts such as pottery, woodworking, metalworking and folk textiles.
Authentic Bulgarian Crafting Places to Visit
Discover the original traditional architecture and teleport into the past with these unique places in Bulgaria showing forgotten crafts and unique skills.
There are no short cuts to any place worth going.
Let's explore together these authentic Bulgarian crafting places and why everyone should visit these magical places which preserve, collect, and exhibit everything connected to the Bulgarian cultural and ethnic wealth.
---
Ethnographic Area Complex Zlatograd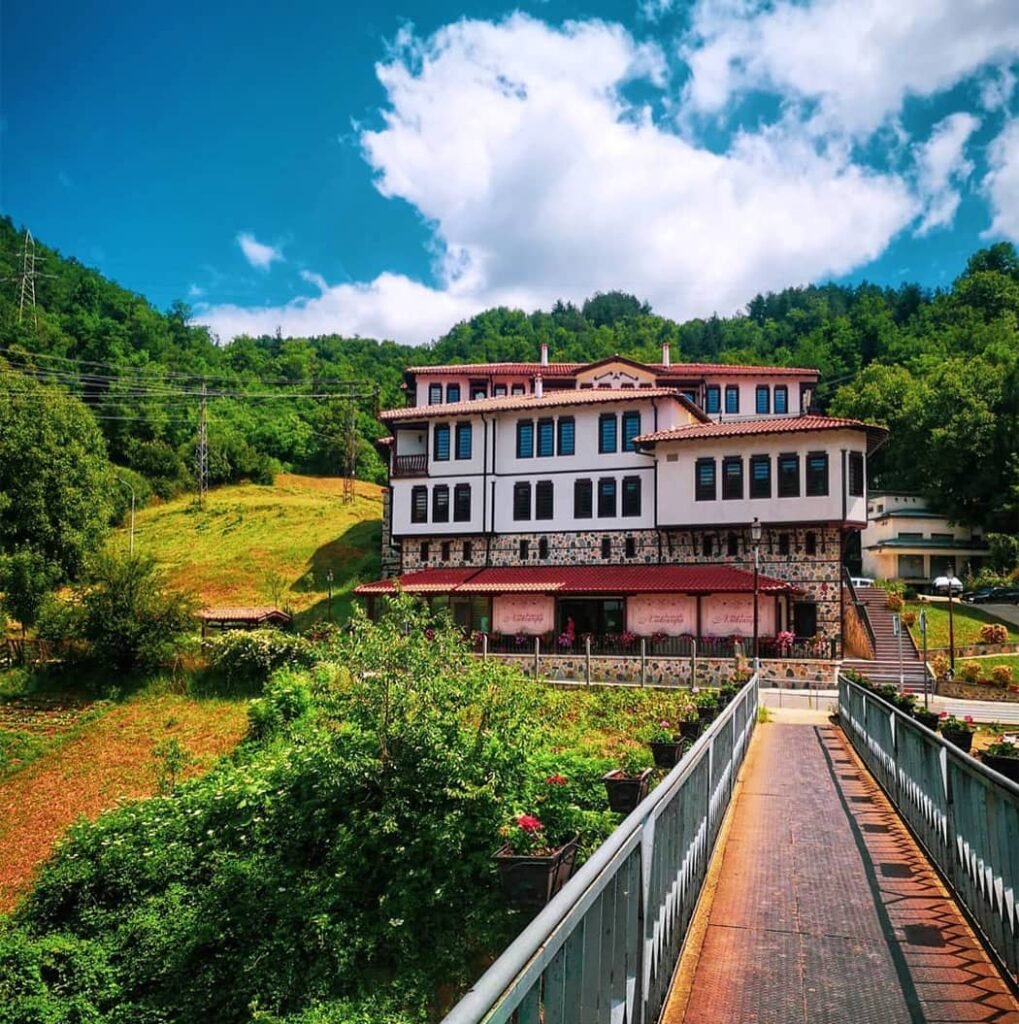 Ethnographic Areal Complex Zlatograd lies in the heart of the a small town with same name in the Rhodope Mountains, 60 km southeast of Smolyan and just 2 km away from the Greek border. It is an open-air museum complex that demonstrates the life of Zlatograd more than a hundred years ago and comprises workshops, an ethnographic museum, and an exhibition of water equipment.
The Ethnographic Areal Complex Zlatograd continue to expand and includes several hotels and taverns nearby, where visitors can stay and have a traditional Bulgarian meal. The complex was included in the list of "Hundred national tourist sites" in 2004, and in 2006 received the title "Best unique ethnographic complex in Bulgaria for 2005".
Ethnographic Area Complex Zlatograd is the only private ethnographic area complex in Bulgaria, and the largest architectural reserve in the Rhodope Mountains, with permanent local residents, and presents a number of traditional crafts such as pottery, carving, cutlery, goldsmith's trade and others.
Location: Ethnographic Area Complex Zlatograd
---
Ethnographic Village Complex Etar
The Open Air Ethnographic Museum Etar is located in northern Bulgaria, on the northern edge of the Bulgarka Nature Park, between the park and the city of Gabrovo. This open-air museum presents the Bulgarian culture, customs, and craftsmanship. It spans over an area of 7 ha and contains a total of 50 objects, including water installations and houses with craftsmen's workshops attached.
The complex illustrate the way of life and economy of Gabrovo and the region, and architecture during the Bulgarian National Revival. The museum was opened in 1964 and in 1971 was proclaimed as a monument of culture.
The Open Air Ethnographic Museum Etar following the old traditions and using original instruments represent around 20 characteristics of the regional crafts such as pottery, cutlery making, coppersmith crafts, wood-carving, furriery, needlework etc.
You'll find also numerous restaurants in the park where tourist could consume traditional local Bulgarian cuisine, as well as shops for souvenirs.
Location: Ethnographic Village Complex Etar
---
Ethnographic Complex Orehite, Troyan
Ethnographic Complex "Walnuts" is located in the village of Dalbok Dol, just 10 km from the town of Troyan, in the heart of Stara Planina. Visiting this unique place will take you back 120 years, in times of peace, comfort, and warmth.
The complex is spread on an area of 3 acres, where you'll discover the beauties of 3 detached houses with 20 beds. Guests can stay in the complex and feel the spirit of that time, along with private bathroom, wi-fi and TV in each of the rooms.
Location: Ethnographic Complex Orehite, Troyan
---
National Exhibition of Popular and Artistic Crafts, village of Oreshak, Troyan
Located in the village of Oreshak, the National Exhibition of Popular and Artistic Craft is only 1 km from the Troyan Monastery and 7 km from the town of Troyan. This is the only exhibition in the country, which has gathered from all ethnographic regions in Bulgaria all the works of Bulgarian artists in one place.
Annually national and international exhibitions are organized by the complex with the participation of foreign and Bulgarian artists. You can find unique handcrafted embroidery, wood, ceramics, fabric, metal, jewelry, weapons, and more.
The exhibition was opened in 1971 and a few years later it became one of the largest fairs in Northern Bulgaria and a meeting place for artists from all over Bulgaria. Over 1,080 objects that are continuously exhibited in one of the halls, were donated from Bulgarian and foreign artists to the National Fair of Folk Art Crafts.
Location: National Exhibition of Popular and Artistic Crafts, Oreshak
---
National Ethnographic Museum, Sofia
The Ethnology and Folkloristics Institute with an Ethnographic Museum at the Bulgarian Academy of Sciences (EFIEM-BAS) is a leading national institution for folkloristic, ethnological, and cultural-anthropological research. The museum is one of the most popular sightseeing highlights in Sofia and it is located in the city center, facing the City Garden and the National Theatre "Ivan Vazov".
Its rich libraries and archives collection includes around 50000 items organized under several categories and the National Ethnographic Museum was recognized in the first decades of the 21st century as one of the museums with the richest exhibits on the Balkan Peninsula.
The Ethnographic museum is located in the former royal residence in Sofia holds a collection that includes costumes, copper objects, agriculture, goldsmith crafts, wood carvings, furniture, ceramics, The collection also includes fabrics and embroideries, carpets, ritual objects, and foreign art collection also representing the topological characteristics of the traditional Bulgarian garment and the Bulgarian traditional culture in its entirety.
Location: National Ethnology Museum, Sofia
---
Ethnographic complex Chateau Medovo
Ethnographic complex Chateau Medovo is located near the village of Medovo, built on an area of 100 acres, just 12 km away from Pomorie, 12 km west of Sunny Beach resort, and 24 km away from Burgas.
Chateau Medovo is a great relaxation place you must visit while traveling on the Bulgarian Black sea. Visitors of the complex can see crafts representing the Age of the Bulgarian Revival such as weaving, pottery, leather crafting, sugar workshop and more. Coppersmith workshop produces handmade jewelry and small jewelry sets, various wall decorations, icons, trays, amulets, jugs, cups, and more.
There is a hotel part where tourists can stay, souvenir shops, a restaurant to try Bulgarian dishes, and a wine shop.
---
Village of Arbanassi
Arbanasi is a village with a unique cultural-historical heritage, set on a high plateau between the larger towns of Veliko Tarnovo and Gorna Oryahovitsa in Veliko Tarnovo Province of central northern Bulgaria. The village is known for its large number of historical monuments and its rich history.
The ancient atmosphere of Arbanassi with examples of Bulgarian National Revival architecture, such as 17th- and 18th-century churches makes Arbanasi a popular tourist destination.
Between the 17-18th century, Arbanasi grew into a wealthy crafts and trade hub. Arbanassi has been declared an architectural site and has been included in the UNESCO list for world cultural heritage. Arbanasi is another place from our list with authentic Bulgarian crafting places you should visit.
The village has 5 churches and 2 monasteries built at the end of the 16th and at the beginning of the 17th century.
In Antarctica, the South Shetland Islands, Arbanasi Nunatak on Livingston Island is named for Arbanasi.
Location: Arbanasi, Bulgaria
---
Have You Visit any of These Authentic Bulgarian Crafting Places?
Let me know your experience if you have visited any of these authentic Bulgarian crafting places or if you know other crafting places we should mention. Tag @stunning_bulgaria on Instagram and hashtag it #stunning_bulgaria.
While I have you here, may I suggest a few other places you should visit on your next trip: